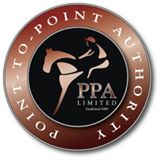 The Point-to-Point Authority (PPA) is the body responsible for the administration, promotion and development (governance and strategy) of Point-to-Point racing and function under delegated authority from the British Horseracing Authority (BHA)
The PPA is responsible for all aspects of amateur horseracing in the UK and needed a system to coordinate all the various people and roles involved in racing.
Each race meeting, or Fixture, needs to be planned and consent sought from landowners, the host Hunt, or organising committee, permission from the PPA and insurance. This mustall be done well in advance of the Fixture.
Riders must be licensed each season and have a valid, recent medical certificate. There are various stages of a Riders career and a full history of their porgess is maintained including recorded wins of vaious types.
On the day of the Fixture, there are thirty-three roles that need to be filled including Stewards, Vets, Doctors, Paramedics, Starters and Judges.
The sport is split into regions and there must be official BHA Course Inspectors and some people can fill different roles at different fixtures and some will do it at short notice.
Finally, at the end of the Season, many records need to be reset without losing the history.
This is a massive organisational headache to get everything in place and on time otherwise the Fixture cannot go ahead. Their system now manages all of this and has many exception reports to ensure the smooth running. The PPA also has a statutory report for the BHA, the governing body.
Goodness knows how they achieved it before! One staff member recently moved on to pastures new in the sport and, with the new system in place, they haven't needed to replace her.